Saturday, May 16, 2020, 2:00-4:30 pm
McKale Center
Congratulations graduating seniors! You and your guests are invited to the College of Social and Behavioral Sciences Spring Convocation. This ceremony is an opportunity to celebrate your accomplishments with your classmates, family, and friends and includes a procession where you will be individually recognized.
RSVP SYSTEM IS NOW OPEN
WILL CLOSE ON SUNDAY APRIL 26, 2020 AT 11:59 PM
Guest
This event is free and guest tickets are not required. Doors open at 1 pm. Seating will be on a first come, first serve basis.
The event is expected to last approximately 2.5 - 3 hours. Graduates and guests should remain for the duration of the ceremony.
Please do not make plans which would interrupt other graduates and their families by your departure.
Graduates
Students in need of special assistance, contact Isabel Contreras at imc@email.arizona.edu
We ask all graduates to come carrying their regalia. You will be screened through security.
Student check in is from 1:00-1:45pm on the east side of the McKale Center. Students arriving after 1:45pm risk not being able to participate.
2:00pm the ceremony begins.
Students must stay for the duration of the ceremony, leaving early is disrespectful of other graduates and disrupts the ceremony.
IMPORTANT: If you refuse to follow instructions from SBS staff or event security, you will be asked to leave the ceremony. Finally, any infractions of student code of conduct will be reported to the Dean of Students: https://deanofstudents.arizona.edu/student-rights-responsibilities/student-code-conduct-resources
Cap and gown
Caps, gowns, tassels, and stoles are available from the UA BookStores.
Photography
Professional photography will be available to purchase through GradTrak, (800) 261-2576.
Clear bag policy
No outside containers, large bags, backpacks, or parcels are allowed inside the McKale Center. All in-hand items must be placed in appropriate and approved clear bag.
See the UA Clear Bag Policy.
Location and parking
The McKale Center is located on the UA campus at 1 National Championship Drive. Allow for extra travel time due to heavy traffic.
Free parking will be available. Visit UA Parking & Transportation for information on parking garages and surface lots.
Accessible parking is available in the Cherry Avenue Garage next to the McKale Center. Take the second-floor walkway between the garage and McKale. Volunteers will direct guests to accessible seating options once inside.
A drop off area is also located in the parking lot east of McKale.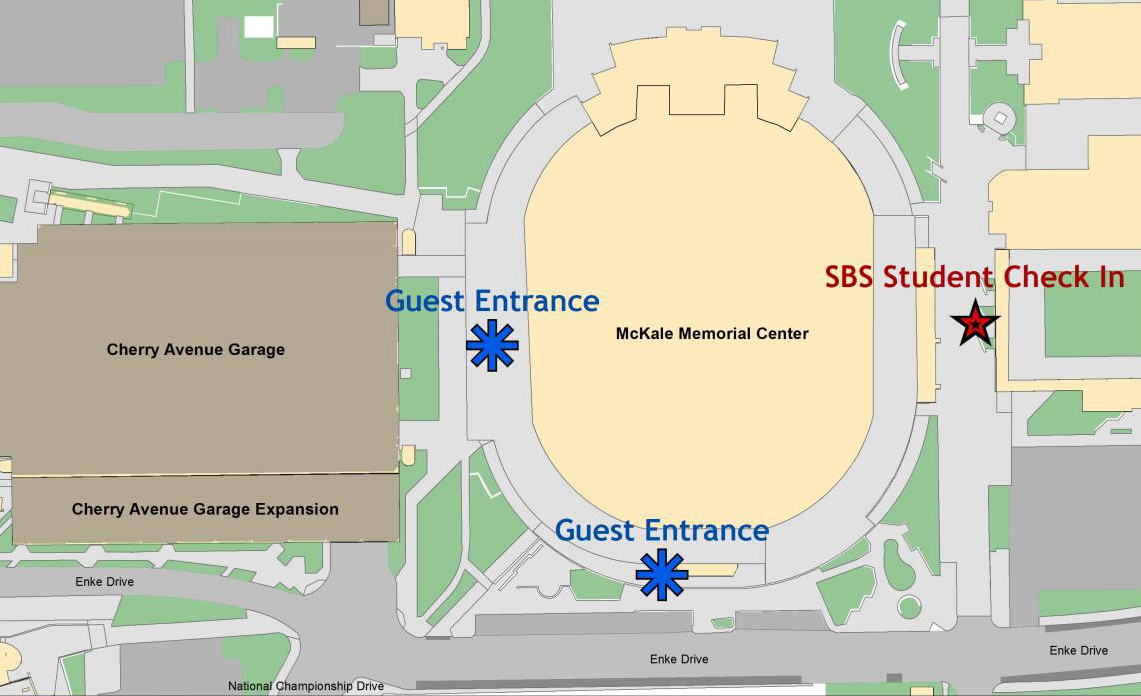 Livestream
Do you have guests that can't make it to the ceremony? A livestream of the SBS Convocation will be available at sbs.arizona.edu/live.
Contact us